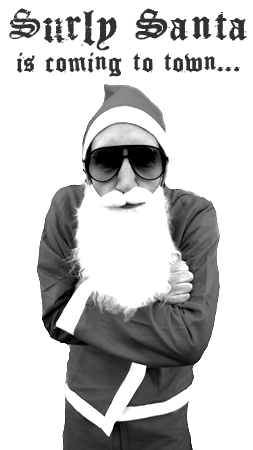 Tuesday December 6th at 7:00 PM The West End at Eastworks
"A Christmas show for the rest of us."
This show is not meant for kids. At all.
This year Surly Santa is an emotional wreck. Do you know what Surly hates more than Christmas? Authoritarianism… Nationalism… Xenophobia… Racism… Sexism… Bigotry… Bad Toupees.
Part communal-funeral-for-democracy-as-we-know-it, part absurd-commentary-fueled-by-liquid-courage, Surly spins a yarn of United Stateism. This year the best gift we can give ourselves is a combination of revolutionary sorrow and fucking outrage, in order to take our country – and our antiquated, stupid-ass holidaze – back.
This is the last season of The Seth Show. This is your last shot to see Surly. Pay-What-You-Decide at the end of the show. Yeah? Yeah.
This might be the last December Surly makes an appearance before completely giving up on the world.
 Now's your shot to see why Surly is so damn surly.
To get a taste: